I first want to let you know how grateful I am for you, I pray for you daily.
I have several success stories I'd like to share with you..
Firstly, I have perfected my body butter!!! What was previously known as Honey Butter has now evolved into Magical Mango Healing Cream! Slight tweak to the ratios and one deliciously smelling addition and we now have an INCREDIBLE, creamy, luscious, yummy smelling recipe that will have you glowing all day. They'll be dropping on the website next week!
YES GOD!!!
Here's what one of my lovely client's says about this product..
​
I also want to discuss the vision board I created last week at the virtual Sip, Steam & Manifest party because every single thing on it has come to fruition!!! I consider something to be fruitful as soon as I begins to receive evidence…
What's wild is that some of them did manifest IMMEDIATELY!!!
Let me break it down..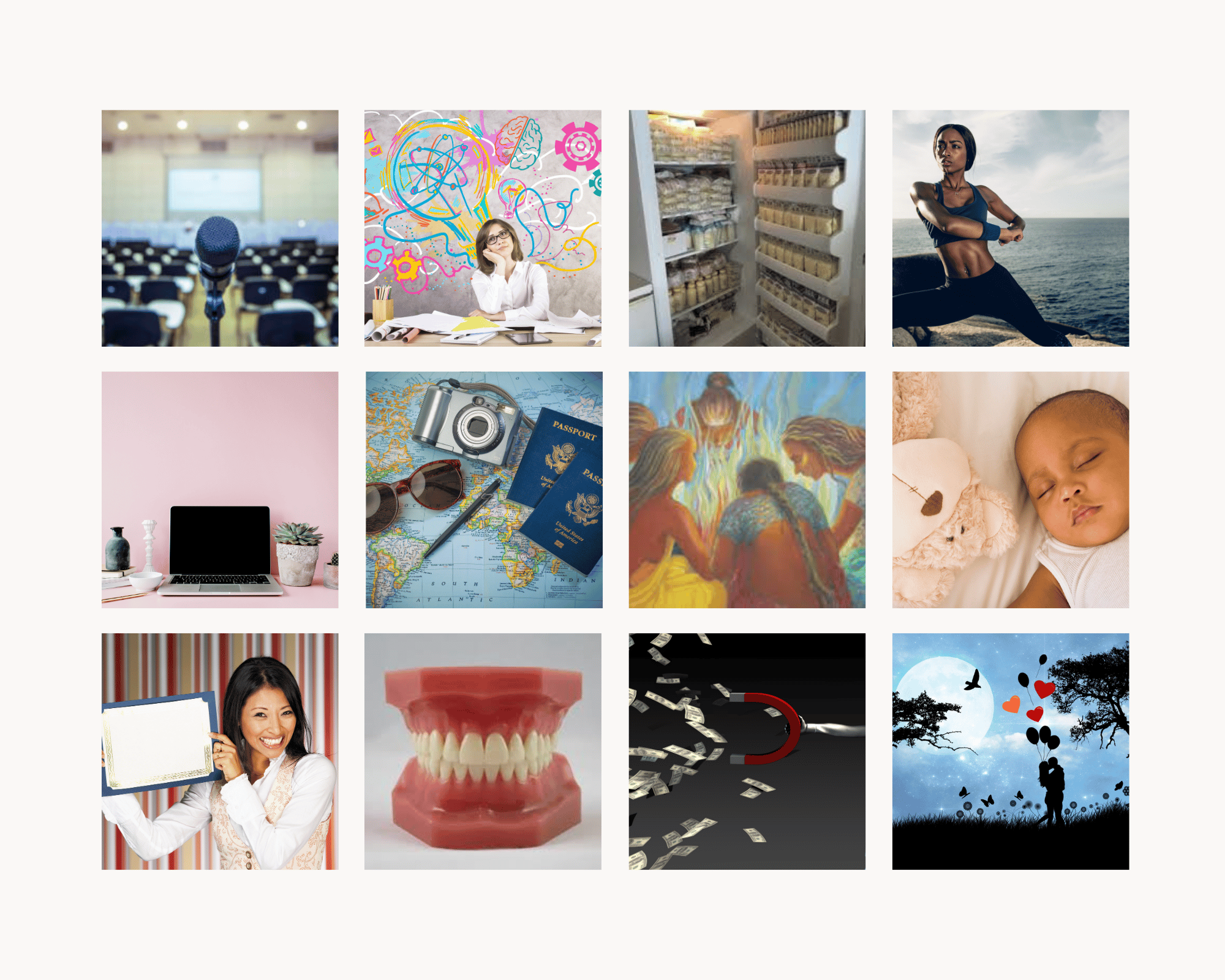 3/2021 Virtual Vision Board
(see microphone in front of chairs)
I am speaking this weekend (3/21) at Cupcakes, Cocktails & Conversations. By the way, please join us if you can, it's going to be AMAZING!!!)
I am also speaking at both the Virtual Sip, Steam & Release Party (3/26) as well as the I Used To Spank My Kids Masterclass (3/25). (come through!!)
(see woman with tons of brilliant ideas)
They have been pouring in!!! Like how I tweaked that butter recipe and created an incredible new product! That's just the start!
(see passport, map and camera)
This is going to sound made up and I didn't even recognize it while it was happening. Yesterday I got a random opportunity to book two international family trips for a ridiculously low price. (Thank you GOD🙏🏽)
(see freezer full of breastmilk)
I went from contemplating switching to formula because I felt as though I couldn't keep up with Justice to now having an overflow and actually freezing milk again!!!
(see woman holding up certificate)
I have been receiving so many downloads about the completion of the Yes God Vaginal Steaming Certification!!!! Honestly, I've already done a lot of the work! (THANK YOU GOD!)
(see sleeping baby)
Justice slept through the night for the first time last night. I was SO elated when I woke up to that realization!
I think you get the gist… this stuff works. It's incredible. It's happening faster and faster for me too, that's the part that's blowing my mind a bit.
One more, I just randomly checked my google reviews on a whim and saw this!!!
GOD is good ya'll.
I hope you're having a good week and that divine order is now established in your mind, bodies and affairs.
Be sure to download the app for daily affirmations.
With So Much Love,
Meg